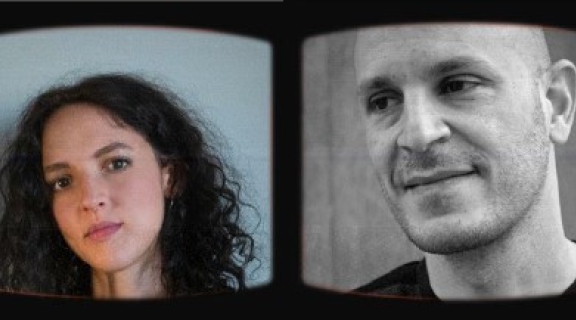 Writers Voices for Peace and Justice: Isabella Hammad and Fady Joudah
Wednesday, November 15, 2023
Event Time
11:00 a.m. - 12:00 p.m. PT
Cost
Free and open to the public
Contact Email
cwriting@sfsu.edu
Overview
You are invited to two online Zoom panels this week, entitled "Writers' Voices for Peace and Justice," featuring acclaimed writers whose works address the multiple tragedies that have been unfolding in the escalation of violence in the Middle East. Attendance is entirely voluntary. 
The goal is always to humanize the civilian populations caught in the multiple waves of violence, most recently between Hamas and Israel, to dispel stereotypes, and to use art to seek a more peaceful and just world.  
The first, featuring National Book Award Foundation 5 Under 35 Honoree and multiple-award-winning novelist Isabella Hammad (Enter Ghost, The Parisian) and Guggenheim Award-winning poet/translator Fady Joudah (Tethered to Stars, Alight, etc.), will be Wednesday, November 15 at 11 a.m. to 12 p.m.  
Pre-register for the Isabella Hammad/Fady Joudah panel on November 15 here.
(The panels are being recorded so that students who cannot attend can still watch them later.) 
As creative writers, we feel it is important to facilitate conversations with writers who are using their artistry to speak up for peace and justice in this time of war.  We hope these conversations will help to dispel dehumanizing stereotypes that have led to increased incidents of antisemitism, Islamophobia, and anti-Arab bigotry. 
Read about the second panel here!
Writers' Voices for Peace and Justice: Isabella Hammad and Fady Joudah
A Reading and Conversation, followed by a Q&A
Co-hosted by:
Professor May-lee Chai, Graduate Coordinator
Professor Andrew Joron, Acting Chair
Free and open to the public
Isabella Hammad
Isabella Hammad was born in London. Her writing has appeared in numerous publications including Conjunctions, The Paris Review, The New York Times. She was awarded the 2018 Plimpton Prize for Fiction and a 2019 O. Henry Prize. Her first novel The Parisian (2019) won a Palestine Book Award, the Sue Kaufman Prize from the American Academy of Arts and Letters, a Betty Trask Award from the Society of Authors in the UK. She was a National Book Foundation 5 Under 35 Honoree, and has received literary fellowships from MacDowell, the Rockefeller Foundation and the Lannan Foundation. She was selected as one of the Granta "Best of Young British Novelists" in 2023.  Her second novel, Enter Ghost, was published in 2023.
Publications
Fady Joudah 
Fady Joudah has published five collections of poems: The Earth in the Attic; Alight; Textu; a book-long sequence of short poems whose meter is based on cellphone character count; Footnotes in the Order of Disappearance; and, most recently, Tethered to Stars. He has translated several collections of poetry from the Arabic and is the co-editor and co-founder of the Etel Adnan Poetry Prize. He was a winner of the Yale Series of Younger Poets competition in 2007 and has received the Arab American Book Award, a PEN award, a Banipal/Times Literary Supplement prize from the UK, the Griffin Poetry Prize, and a Guggenheim Fellowship. He is an Editor-at-Large for Milkweed Editions. He lives in Houston, with his wife and kids, where he practices internal medicine.
Publications

Creative Writing Department, San Francisco State University, with thanks to the Marcus Fund.