The objective is to teach our M.F.A. playwrights everything thing need to know in order to self produce their own creative work. We have master classes with seasoned professionals in the following areas: Grant Writing and Fund Raising, Publicity and Marketing, and Dramaturgy. Artistic directors from the local theatre scene discuss the submission process and offer the class notes from the field. The class culminates in a week of staged readings at Z Space during the last week of April.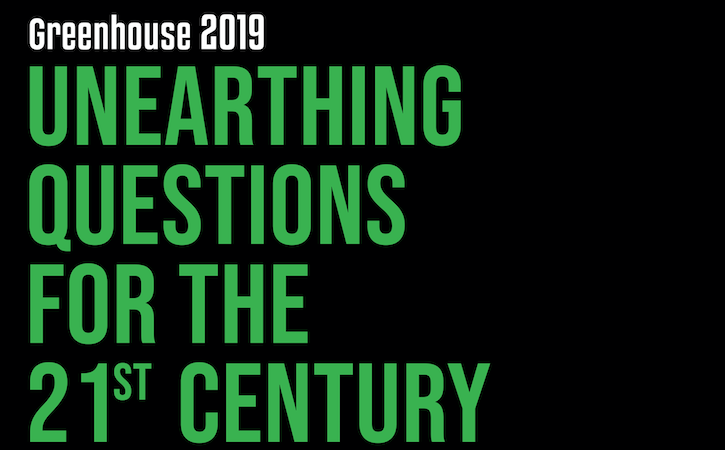 Past Events
PUSHING AGAINST THE WATER
By Kristen La Follette, Directed by Torange Yeghiazarian
Wednesday 4/24, 7 p.m.
Sunday 4/28, 1 p.m.
Six Bay Area Muslim women come together to celebrate the stories of their lives. Through monologues from oral history interviews, a blogger, midwife, journalist, lawyer, writer and student explore the borders of identity and belief. Shattering assumptions about faith and community, each woman navigates life in her own words and on her terms.
WOKE WASH
By Matthew Ginsburg, Directed by Jeri Lynn Cohen
Thursday 4/25, 7 p.m.
Saturday 4/27, 4 p.m.
Woke Wash is a satirical new play that shatters the façade of corporate caring. Susan and Jack Popper are a young couple struggling to make it in New York City. She is a groundbreaking sportswriter and he is an idealistic advertising executive. After Susan is assaulted and Jack is ridiculed for trying to "progressively" promote Pepsi, they hit rock bottom. Determined to succeed, they craft an insidious advertisement that is widely revered for its inspiration.
EXIT PLAN
By Lynn Mari, Directed by Nancy Shelby
Friday 4/26, 7 p.m.
Sunday 4/28, 4 p.m.
Sam, the founder of a suicide hotline is ecstatic to be diagnosed with a terminal illness, as he is eager to make a clean exit without having to resort to suicide. Sam's newfound happiness is jeopardized when his right to die is weighed against his responsibility towards his loved ones, and his plan is further complicated by his best friend's need to save him.
DEPRESSION DIARIES
By Just Duléa, Directed by Julius Rea
Saturday 4/27, 7 p.m.
Sunday 4/28, 7 p.m.
A multidimensional theatrical performance incorporating music, dance, and poetry by Just Duléa.
To the outside world Ayodele has it all: she's well educated, self-sufficient, and a millennial entrepreneur on the rise. Yet, she has a secret that constantly threatens to destabilize her. Hounded by Depression, who do you turn to when you can't trust your community, the Church, or your own mind? As the battle with Depression becomes a matter of life and death, will trying to re-write the past erase Ayodele's future?
Just Duléa
Just Duléa is an author, songwriter, and spoken word artist from New York. She is the Founder/CEO of, and Creative Director for, publishing company Conviction 2 Change LLC and actively works to produce and publish works that help to erase societies margins. Duléa received her B.B.A. in Business Law and Accounting from the University of Miami and is pursuing her M.F.A. in Creative Writing (poetry) from San Francisco State University. Her published titles include, What Really Happened to Cyrano: The Untold Story of Cyrano de Bergerac (2015), A Poetic Expression of Change (2015), S.W.A.G. – Saved With Amazing Grace (2016), and Sex, Love, and Other Emotions (2018). She has also had work published in Genre: Urban Arts Print No. 5 and Bay Area Generations #61.
Matt Ginsburg
Recently retired after a career in finance, Matt is currently a candidate for the M.F.A. degree in Creative Writing with a concentration in playwriting at San Francisco State University. Matt has written several short stories, monologues and comedy routines in additional to his focus on playwriting. His full-length play Eight is Great has been read or performed at the Greenhouse and Fringe Goes Long Festivals at San Francisco State University and the PianoFight and Breach Once More Theaters in San Francisco. His full-length play Holy Cowboy was read at San Francisco State University as part of the Greenhouse Festival last year. Woke Wash is his third full-length play.
Kristen La Follette
Kristen La Follette is pursuing an M.F.A. at San Francisco State University. Trained as an oral historian at Columbia University, she employs playwriting to reimagine interviews on stage. Her verbatim play, A Glimpse Through the Curtain: Monologues of American Catholic Sisters was performed in New York City and Pennsylvania. She lives on the Central Coast, where she teaches creative writing and oral history at California State University Monterey Bay.
Lynn Mari
Lynn Mari is a San Francisco based playwright and videographer impelled by her fascination and repulsion with all things human.
Daniel Bueno
Daniel Bueno is a fiction writer who graduated with his B.A. in creative writing from San Francisco State University. Daniel is currently finishing the M.F.A. program for creative writing at San Francisco State University. He lives in San Francisco California where he is currently working to complete his first novel.
Anne Galjour
Anne Galjour (Greenhouse instructor) is a playwright, actor, producer, and playwriting teacher. Her playwriting credits include #GETGANDHI: A Seriously Radical Feminist Comedy, Turtles & Alligators, Okra, Bird In The Hand, Queen Of The Sea. Solo performance credits – You Can't Get There From Here, Alligator Tales, Hurricane, and The Krewe Of Neptune. Her theatrical works have been produced by Berkeley Rep, Seattle Rep, Actors Theatre of Louisville, Manhattan Theatre Club, Southern Rep in New Orleans, the Magic in SF, Climate Theatre and numerous college and theatre festivals around the country. Her recent collaborations with Robert Moses Kin Dance Company's, Fable & Faith and The Cinderella Principle, both premiered at Yerba Buena Center For The Arts and received subsequent tours. She is a lecturer in the Creative Writing Department at SF State University.
Brian Williams Moore
Brian William Moore is an M.F.A. student at San Francisco State University, living and writing in the North Bay. His short stories have appeared at Bewildering Stories. He is the publicity editor for Fourteen Hills literary journal.
Would you like a free ticket to this year's GREENHOUSE Theatre Festival at Z Below?
We are so excited! Our theme is Unearthing Questions for the 21st Century. The dates are April 24 – 28 at Z Below, Z Space's 80-seat black box theatre in San Francisco. We need your help! This year, we're producing four new works in progress by four SF State playwrights addressing questions about identity, mental health, the façade of corporate caring and the dignity of end of life choices.
What We Have
Characters who will not be erased – six Muslim women who explore the borders of identity and belief, a young woman who knows how depression's depths know no bounds, an idealistic advertising executive who learns about the so-called social conscience of the corporate world, and a terminally ill man who insists that his death is a right and not a privilege.
What We Need
Some financial help:
$800 ($200 per play) to pay for production costs
$500 to pay for printing scripts for actors, directors, stage managers, posters and theatre programs
$1300 total
What You Get
Our everlasting love, gratitude and a free ticket with your donation!
You can now donate online using ApplyWeb.
Or you can make your donation by sending a check made payable to University Corporation, San Francisco State, indicating on the memo line 'GREENHOUSE' to make sure the funds go to this year's festival. Please include a little note stating you want the funds to go to GREENHOUSE.
Mail that check to:
Creative Writing Department
San Francisco State University
1600 Holloway Avenue
San Francisco, CA 94132
We will put your name on our list of donors and will have a complimentary ticket available for you at the door. If you have any questions just email us at greenhousefestsfsu@gmail.com. We will get right to you.
Your Impact
You will be helping emerging playwrights launch their careers, adding to the dynamic diversity of San Francisco's theater scene and beyond.
Other Ways You Can Help
Come and see the shows, pay full price for the ticket, tell a friend, tweet #SFSUGreenhouse, like our Greenhouse Facebook page, come visit us in real life or online.
Come join us for drinks, free food, and a chance to see some of San Francisco's up-and-coming playwrights.
The festival will be at Z Below, 450 Florida Street (btwn. 17th and Mariposa), San Francisco, 94110.
Here is our line up:
PUSHING AGAINST THE WATER
By Kristen La Follette, Directed by Torange Yeghiazarian
Wednesday 4/24, 7 p.m.
Sunday 4/28, 1 p.m.
WOKE WASH
By Matthew Ginsburg, Directed by Jeri Lynn Cohen
Thursday 4/25, 7 p.m.
Saturday 4/27, 4 p.m.
EXIT PLAN
By Lynn Mari, Directed by Nancy Shelby
Friday 4/26, 7 p.m.
Sunday 4/28, 4 p.m.
DEPRESSION DIARIES
By Just Duléa, Directed by Julius Rea
Saturday 4/27, 7 p.m.
Sunday 4/28, 7 p.m.
Tickets and information at www.zspace.org
Thank you for all your support in the past. We hope you can chip in again. We would love to see you at the festival!
Greenhouse Theatre Festival is made possible in part through the generosity of the Sam Mazza Foundation.