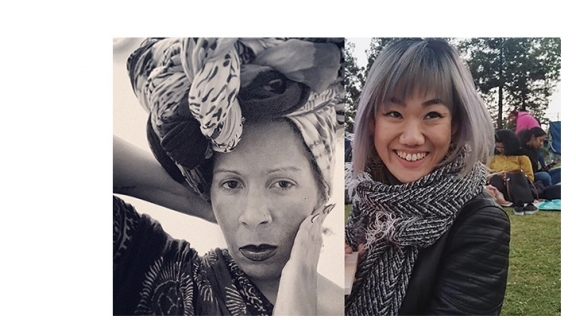 Mazza Writer in Residence erica lewis and Christine No, reading and in conversation
Saturday, March 12, 2022
Event Time
03:00 p.m. - 04:00 p.m. PT
Cost
Free and open to the public
Location
The Poetry Center, HUM 512, San Francisco State University and Online
Contact Email
poetry@sfsu.edu
Overview
This program also available via live-stream and at the same link after the event.
Supported by the Sam Mazza Foundation
We've moved to an in-person reading—audience welcome!—at The Poetry Center, though you can still attend by webinar (or watch via live-stream), for the concluding event in erica lewis's weeklong Mazza Writer in Residence program for Spring 2022. She'll be joined by Oakland-based poet Christine No, each reading from their work and engaging in conversation with one another and the audience. 
Please note: proof of vaccination and mask are required in order to attend in person.
This book [mary wants to be a superwoman, erica lewis] made me suck my teeth and say goddamn, and yes, and thank you. This book hit me right in the ancestors, spoke to me like a sister. erica lewis is aware that time is fiction, in a way that only black women know. A collage of music and memories, language that's lived before, people we carry and people we try to forget, causes and effects, the proverb that "everything is everything." This work is both archival and built from scratch. It's a stunning altar to the past, a balm for the present, and a prayer for what will be.
—Morgan Parker
 
Whatever Love Means is a searing ode to abandonment. The poems collected here detail a woman's pursuit of survival despite the psyche's cruelest intentions. "Woke up still," Christine No writes, "a woman hell-bent on her own fantastic demise." Where one is most vulnerable, one is most resilient, and No's excavation of exactly that erupts amid these pages. Here, "even the dead are dancing."
—Jeanann Verlee
Bios
erica lewis lives in San Francisco where she runs lil' homie apothecary. Her books include the precipice of jupiter (2009) and camera obscura (2010, both with artist Mark Stephen Finein); murmur in the inventory (2013); the first two books of the box set trilogy: daryl hall is my boyfriend (2015) and mary wants to be a superwoman (2017); and all the real tears (2017). Her work has appeared in various anthologies, journals, and in numerous chapbooks (Afterhours Editions/The Song Cave, Belladonna, Lame House). She was born in Cincinnati, Ohio. 
Christine No is a Korean American poet, filmmaker and daughter of immigrants. She is a Sundance Alum, VONA Fellow, Pushcart Prize and Best of the Net Nominee, and has served as Assistant Features Editor for The Rumpus, a Program Coordinator for VONA; and currently serves on the board of Quiet Lightning, a literary nonprofit in the Bay Area. Christine is interested in the power of storytelling at the intersection of healing and social justice. You can find her work online and in print; and, her first full length poetry collection Whatever Love Means is available via Barrelhouse Books.