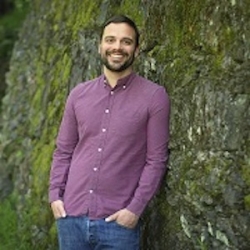 Michael David Lukas
Assistant Professor
Advisor, Thesis Reader. Fall 2023 office hrs. begin on August 21, 2023. For summer advising please reach out to cwriting@sfsu.edu and you will be directed to the available advisor.
Phone: (415) 338-6986
Email: mdlukas@sfsu.edu
Location: Humanities Building, Room 365
Office Hours:
Tue:
2:00 p.m. - 4:00 p.m.
Biography 
Michael David Lukas has been a Fulbright Scholar in Turkey, a night-shift proofreader in Tel Aviv, and a waiter at the Bread Loaf Writers' Conference in Vermont. Translated into more than a dozen languages, his first novel The Oracle of Stamboul was a finalist for the California Book Award, the NCIBA Book of the Year Award, and the Harold U. Ribalow Prize. His second novel, The Last Watchman of Old Cairo, was published recently by Spiegel & Grau. A graduate of Brown University and the University of Maryland, he is a recipient of scholarships from the National Endowment for the Arts, Montalvo Arts Center, New York State Summer Writers' Institute, Squaw Valley Community of Writers, and Elizabeth George Foundation. His writing has appeared in The New York Times, Wall Street Journal, Slate, National Geographic Traveler, and Georgia Review. He has taught at the University of San Francisco, the University of the Pacific, and 826 Valencia.
Website(s):