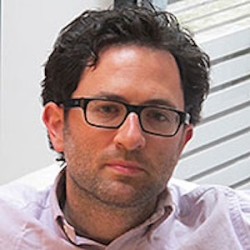 Chanan Tigay
( He/Him/His )
Associate Professor
Advisor, Thesis Reader. Fall 2023 office hrs. begin on August 21, 2023. For summer advising please reach out to cwriting@sfsu.edu and you will be directed to the available advisor.
Email: tigay@sfsu.edu
Location: Humanities Building, Room 545
Office Hours:
Thu:
2:00 p.m. - 4:00 p.m.
Biography
Author of The Lost Book of Moses: The Hunt for the World's Oldest Bible (Ecco/HarperCollins), winner of the Anne & Robert Cowan Writer's Prize and a finalist for the Sami Rohr Book Prize; and two long works of nonfiction, The Special Populations Unit: Arab Soldiers in Israel's Army (McSweeney's) and Nuclear Meltdown, USA (Rodale). Tigay's next book, Serpents in the Garden, will be published by Public Affairs. Tigay was awarded fellowships by Harvard University's Radcliffe Institute for Advanced Study and the UC Berkeley Graduate School of Journalism's Investigative Reporting Fellowship, where he worked on projects about Israel's opposition to the Iranian nuclear program. His journalism has appeared in print and online for publications including The New Yorker, the Atlantic, Smithsonian, GQ, Newsweek, the Wall Street Journal, New York magazine, the San Francisco Chronicle, The Jerusalem Post and the BBC. His first book was recently optioned for podcast and television; and his 2021 Smithsonian article, "The Righteous Defiance of Aristides De Sousa Mendes," was optioned for film. In 2018 he starred in "The God Code," a two-hour special on the History Channel. Among other postings, he has covered the Israeli-Palestinian conflict from the Jerusalem bureau of Agence France-Presse; the attacks of Sept. 11, 2001, and the church abuse scandals for AFP's New York bureau; the anthrax attacks and Ground Zero recovery work for United Press International; and the United Nations for The Jerusalem Report magazine. He has interviewed leading American politicians including Hillary Clinton and John McCain along with Israeli Prime Minister Ehud Olmert and President Shimon Peres. Tigay has taught courses in Stanford University's Continuing Studies Program on novel writing, the writing life, creative nonfiction, magazine, and feature writing; and was a writing instructor at Stanford's Graduate School of Business. He has received residency fellowships at Yaddo, the Blue Mountain Center, and the Mesa Refuge. He holds an MFA in creative writing from Columbia University and a BA in Political Science from the University of Pennsylvania. Born in Jerusalem and raised in Philadelphia, Tigay is an associate professor at San Francisco State.