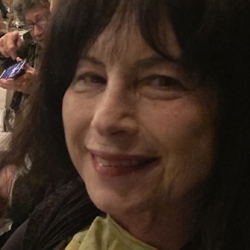 Maxine Chernoff
Professor
Advisor, Thesis Reader. On leave Spring 2023. Fall 2023 office hrs. began on August 21, 2023. For summer advising please reach out to cwriting@sfsu.edu and you will be directed to the available advisor.
Phone: (415) 338-2019
Email: chernoff@sfsu.edu
Location: Humanities Building, Room 422
Office Hours:
Wed:
10:30 a.m. - 12:00 p.m.
Thu:
10:30 a.m. - 12:00 p.m.
Biography
Maxine Chernoff is a professor of the Creative Writing program at San Francisco State University and a 2013 NEA Fellow in poetry.  She is the author of six books of fiction and 17 books of poetry. "Under the Music: Collected Prose Poems" (MadHat Press, 2019) and "Camera" (Subito Press, 2017).  Of Among the Names (Apogee Press, 2005), Cole Swenson said, "exploring complexities of "the gift," Chernoff's is an economy of the uncanny — each exchange is strikingly new." Her recent books of poetry are Here (Counterpath, 2014), Without (Shearsman, 2012), To Be Read in the Dark (Omnidawn, 2012) A House in Summer (Argotist, 2012, online edition) and The Turning (Apogee Press, 2008).  
Her collection of stories, Signs of Devotion, was a New York Times Notable Book of 1993. Both her novel American Heaven (Coffee House Press, 1996) and book of short stories, Some of Her Friends That Year (Coffee House Press, 2002), were finalists for the Bay Area Book Reviewers Award. With Paul Hoover, she translated The Selected Poems of Friedrich Hölderlin, (Omnidawn Press, 2008), which received the 2009 Pen USA Translation Award.
She has read her poetry and fiction and taught workshops in Belgium, England, Australia, Germany, Brazil, Scotland, and China and in the Prague Summer Writing Program, and the SLS Writing Seminars in St. Petersburg, Russia. She was an international visiting scholar at the University of Exeter, England, in January 2013. She has edited the long-running and award-winning journal New American Writing, an annual anthology, which is partially funded by the College of Liberal & Creative Arts. She has been a fiction reviewer for The New York Times, Chicago Tribune, and Chicago Sun-Times. Among her other awards are five Illinois Arts Council Fellowships, a Marin Arts Council Fellowship, a PEN Fiction Prize, the Carl Sandburg Award in Poetry, The Chicago Sun-Times Book Award, the Friends of American Writers Fiction Award, an Editor's Award from the Coordinating Council of Literary Magazines and Presses, and a Foreword Book Award for her novel A Boy in Winter.
Website(s):