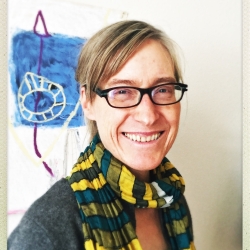 Undergraduate Advisor, Thesis Reader.
Email: ncaspers@sfsu.edu
Location: Humanities Building, Room 268
Office Hours:
Wed:
2:00 p.m. - 4:00 p.m.
and as arranged. Please ARRANGE BY email ncaspers@sfsu.edu.
Thu:
2:00 p.m. - 4:00 p.m.
and as arranged. Please ARRANGE BY email ncaspers@sfsu.edu.
Biography
The Fifth Woman novel was released in August 2018, to praise from San Francisco Chronicle, LAMBDA Literary Review, and Publisher's Weekly. Buzzfeed said it was a book "Queers and Everyone Else Should Read." The Fifth Woman was a 2018 LAMBDA Literary Award Finalist, 2018 Foreword Indies Book of the Year SILVER Winner in Literary Fiction and Finalist in LGBT Fiction, the IPPY Awards for LGBT + Fiction, IPPY Awards for LGBT and Fiction Bronze Medalist, and made The Masters Review "22 Books We're Looking Forward to This Year". Stacy D'erasmo selected the book for the Mary McCarthy award and the story,"Frontiers," originally published in Cimarron Review, was selected by Best American Short Stories as a "Distinguished Story of 2016." Heavier than Air: Stories, Grace Paley Prize in Short Fiction & Editor's Choice New York Times Book Review (2006).  Little Book of Days, Top Ten Books Small Press Distribution (2009). Co-edited Lawfully Wedded Wives: Rethinking Marriage in the 21st Century, with Joell Hallowell (2012).  San Francisco Arts Commission Cultural Equity Grant (2011), Glimmer Train Fiction Award (2010), National Endowment for the Arts Grant (2008).  Story publications include Kenyon Review, The Sun, Glimmer Train, Black Warrior Review, Ontario Review, Iowa Review, New American Writing, Cimarron Review, Arroyo, Green Mountain Review.  Fellowship for Writer in Residence OSU MFA program (2007), Iowa Review Award in Fiction (2003).  National Grant and Literary Award in Fiction from Barbara Deming  Memorial Foundation (2000, 1989). Joseph Henry Jackson Literary Award in Fiction (1995). Honorable Mention Katherine Anne Porter Prize for Fiction (1994). Salt Hill National Literary Fiction Award (2001). Henfield Selection for Excellence in Fiction, SF State, (1992). Pushcart Nomination (1990), LAMBDA nomination Voyages Out II (1990), author of The Blessed (Silverleaf Press, 1991); Voyages Out 2 with Julie Blackwomon (Seal Press, 1990).  Stories anthologized in HERS 2 & 3: Anthology of Brilliant New Fiction by Lesbian Writers (Faber and Faber), Bless Me Father: Stories of Catholic Childhood, Women on Women 2 (Plume).
Website(s):