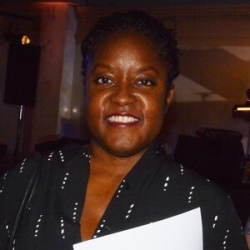 Tonya M. Foster
Assistant Professor
Advisor, Thesis Reader. Fall 2023 office hrs. begin on August 21, 2023. For summer advising please reach out to cwriting@sfsu.edu and you will be directed to the available advisor.
Email: tmfoster@sfsu.edu
Location: Humanities Building Room 260
Office Hours:
Tue:
11:00 a.m. - 1:00 p.m.
virtually by appointment.
Biography
Tonya M. Foster, (PhD; MFA), is a poet, essayist and Black feminist scholar. She is the author of A Swarm of Bees in High Court, the bilingual chapbook La Grammaire des Os; and coeditor of Third Mind: Teaching Creative Writing through Visual Art. Her writing and research focus on poetry, poetics, ideas of place and emplacement, and on intersections between the visual and the written. She is a poetry editor at Fence Magazine and a member of the San Francisco Writers Grotto. Forthcoming publications include poetry collections—Thingifications (Ugly Duckling Presse); a chapbook—AHotB  Sputnik and Fizzle); a 2-volume compendium on the Umbra Writers Workshop; and an anthology of experimental creative drafts. Dr. Foster's poetry and prose have appeared or are forthcoming in the Academy of American Poets Poem-a-Day online journal, Entropy Magazine, the A-Line Journal, Callaloo, boundary2, TripWire, Poetry Project Newsletter, The Harvard Review, Best American Experimental Writing, Letters to the Future: Black Women/Radical Writing, and elsewhere. She was a member of the multi-disciplinary advisory committee for the exhibition Reconstructions: Architecture and Blackness in America at the Museum of Modern Art, New York, NY. Her essay for the exhibition's 2021 field guide, "Time, Memory, and Living in Shotgun Houses in the South of the South City of New Orleans," expands her meditations on place and poetics. In 2020-2021, she was the Lisa Goldberg fellow at the Radcliffe Institute at Harvard University, and a Creative Capital awardee. A recipient of awards from Macdowell, Headlands Center for the Arts, New York Foundation for the Arts, the San Francisco Museum of the African Diaspora, and the Ford and Mellon Foundations, among others, Dr. Foster, beginning in Fall 2021, will serve as the George and Judy Marcus Endowed Chair in Poetry at San Francisco State University.
Website(s):