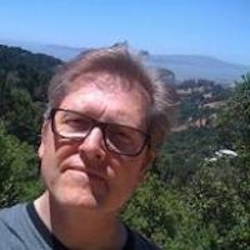 Steve Dickison
Lecturer Faculty
Director of the Poetry Center and American Poetry Archives. Fall 2023 office hrs. begin on August 21, 2023. For summer advising please reach out to cwriting@sfsu.edu and you will be directed to the available advisor.
Phone: (415) 338-2227
Email: steved@sfsu.edu
Location: Humanities Building, Room 511
Office Hours:
Thu:
3:30 p.m. - 4:30 p.m.
Or by arrangement.
Steve Dickison, a poet and writer, teaches writing and literature, as Lecturer in the Department of Creative Writing at San Francisco State University, and Adjunct Professor in the Department of Writing and Literature at California College of the Arts. Born and raised in Northern Minnesota, he moved to the Bay Area in 1983, attending classes in the Poetics Program at New College of California during that decade, taught by Aaron Shurin, Duncan McNaughton, David Meltzer, Michael Palmer, and Robert Duncan. He worked as a bookseller and distributor through the 1990s, coming to San Francisco State University in 1999.
As Director of the SF State Poetry Center & American Poetry Archives, he works with Associate Director Elise Ficarra and Archives Manager Jiri Veskrna, conducting the Poetry Center reading series, and curating an audio and video collection containing some 4,000 hours of original recordings. These recordings have begun to be cataloged and made available online, at Poetry Center Digital Archive (diva.sfsu.edu/collections/poetrycenter), premiered April 2011.
Recent poetry includes Disposed, The Post-Apollo Press, Fall 2007; Wear You to the Ball, collaboration with new music composer Bill Dietz, performed in London and Berlin, May 2009; and from Wear You to the Ball, poem + video, ONandOnScreen, Issue 3, Winter 2011.