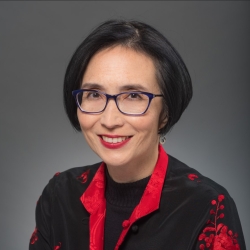 May-lee Chai
Professor, Graduate Coordinator
Advisor & Thesis Reader. Fall 2023 office hrs. began on August 21, 2023. For summer advising please reach out to cwriting@sfsu.edu and you will be directed to the available advisor.
Phone: (415) 338-1118
Email: chai@sfsu.edu
Location: Humanities Building, Room 563
Office Hours:
Mon:
11:00 a.m. - 12:30 p.m.
or by appointment
Biography
May-lee Chai is the author of eleven books and is a recipient of an NEA Fellowship in Prose (2006-7). Her latest collection of short stories, Tomorrow in Shanghai (2022), was a New York Times Editors' Choice and was longlisted for The Story Prize. Her previous collection of short stories, Useful Phrases for Immigrants, won the 2019 American Book Award. Her novels include My Lucky Face (1997), Dragon Chica (2010) and Tiger Girl (2013), which won an Asian/Pacific American Award in Literature. Her memoir Hapa Girl (2007) was a Kiriyama Prize 2008 Notable Book. Her family memoir, The Girl from Purple Mountain (2001), which she co-authored with her father, Winberg Chai, was nominated for the National Book Award in nonfiction. She translated the 1934 Autobiography of Ba Jin (2008) from Chinese to English and is co-author of the nonfiction book China A to Z (1st edition 2007, 2nd edition 2014). She is also the author of a collection of short stories and essays, Glamorous Asians (2004). Her short prose has been widely published in various anthologies, literary journals, magazines, and newspapers including The Rumpus, Glimmer Train, ZYZZYVA, Missouri Review, North American Review, Seventeen, Christian Science Monitor, San Francisco Chronicle, Denver Post, Dallas Morning News, and the Jakarta Post Weekender Magazine. Her essay, "The Blue Boot," was cited as a Notable Essay in Best American Essays 2013, edited by Cheryl Strayed and Robert Atwan. Formerly as a reporter for the Associated Press, she covered stories ranging from the aftermath of the Tiananmen Square crackdown to the crash of UA Flight 232 in Sioux City, Iowa to Southeast Asian gang networks from Texas to Colorado to Pope John Paul II's visit to Denver. She volunteers as a Chinese to English translator for PEN American Center. Her own books have been translated into Chinese, German, and Hebrew. She is the book review editor for Asian Affairs: An American Review and is an elected member of the Board of the National Book Critics Circle. She has been a Research Associate at the Institute of East Asian Studies at UC Berkeley and has taught at many universities including Amherst College, University of Wyoming, and the University of North Carolina Wilmington.
Website(s):