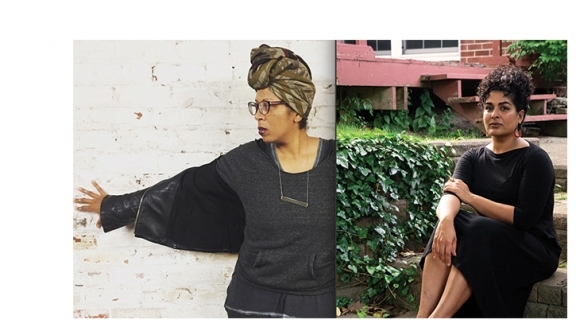 Mazza Writer in Residence erica lewis and Divya Victor, reading and in conversation
Thursday, March 10, 2022
Event Time
05:00 p.m. - 06:00 p.m. PT
Cost
Free and open to the public
Location
Remote Access Event
Contact Email
poetry@sfsu.edu
Overview
This program also available via live-stream and at the same link after the event.
Supported by the Sam Mazza Foundation
Join us online as erica lewis, Poetry Center Mazza Writer in Residence for Spring 2022, is joined by Kingsley Tufts Poetry Award and Pen American Open Book Award poet Divya Victor. They'll each be reading from their poetry then joining in conversation with one another and the audience.
mary wants to be a superwoman [erica lewis] is a tapestry of woven continuums. Its images contain a methodical new naturalism where one's past is the frontier, alternating with the brutal urgency of a witness who would save your life. erica lewis' poems investigate the practice of identity and the sums of nonlinear biographies. Like a relaxed musician, she has the small secrets of the day at her fingertips.
—Tongo Eisen-Martin
 
Divya Victor's Curb is extraordinary: it is a sobering poetic look at how white supremacy "curbs" the brown civilian who can slip between Muslim and Black, between terrorist and illegal. If they're not targeted for what they are, they're mistaken for what they're not—with sometimes fatal consequences. Victor explores the murders of South Asians in America with piercing acumen, re-arranging historical documents into wholly original compositional strategies that draws me in but also pushes me back. I can never know what happened, only perceive the disquieting absence of lives annihilated by structural violence. Layered, rich, and epic, Curb is an incredible collection that must be read and re-read.
—Cathy Park Hong
Bios
erica lewis lives in San Francisco where she runs lil' homie apothecary. Her books include the precipice of jupiter (2009) and camera obscura (2010, both with artist Mark Stephen Finein); murmur in the inventory (2013); the first two books of the box set trilogy: daryl hall is my boyfriend (2015) and mary wants to be a superwoman (2017); and all the real tears (2017). Her work has appeared in various anthologies, journals, and in numerous chapbooks (Afterhours Editions/The Song Cave, Belladonna, Lame House). She was born in Cincinnati, Ohio. 
Divya Victor is the author of CURB (Nightboat Books); KITH (Fence Books/ Book*hug); Scheingleichheit: Drei Essays  (Merve Verlag); NATURAL SUBJECTS (Trembling Pillow, Winner of the Bob Kaufman Award), UNSUB (Insert Blanc), and THINGS TO DO WITH YOUR MOUTH (Les Figues). Her work has been translated into French, German, Spanish, and Czech. She has been a Mark Diamond Research Fellow at the U.S Holocaust Memorial Museum, a Riverrun Fellow at the Archive for New Poetry at University of California San Diego, and a Writer in Residence at the Los Angeles Contemporary Exhibit (L.A.C.E.), and her work has been performed and installed at Museum of Contemporary Art (MoCA) Los Angeles, The National Gallery of Singapore, the Los Angeles Contemporary Exhibition (L.A.C.E.) and the Museum of Modern Art (MoMA). Victor has been an editor at Jacket2 (United States), Ethos Books (Singapore), Invisible Publishing (Canada) and Book*hug Press (Canada). She is currently Associate Professor of English at Michigan State University.