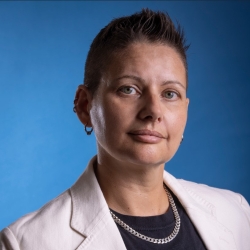 Caro De Robertis
( They/Them/Theirs )
Professor
Advisor, Thesis Reader. Fall 2023 office hrs. began on August 21, 2023. For summer advising please reach out to cwriting@sfsu.edu and you will be directed to the available advisor.
Phone: (415) 338-1550
Email: caro@sfsu.edu
Location: Humanities Building, Room 349
Office Hours:
Tue:
11:30 a.m. - 12:30 p.m.
on ca.m.pus
Thu:
10:00 a.m. - 1:00 p.m.
virtually
Biography
Caro De Robertis (they/them) is the author of the novels The Palace of Eros (forthcoming in 2024); The President and the Frog (2021), a finalist for the PEN/Faulkner Award and the PEN/Jean Stein Book Award; Cantoras (2019), winner of a Stonewall Book Award and a Reading Women Award, a finalist for the Kirkus Prize and a Lambda Literary Award, and a New York Times Editors' Choice; The Gods of Tango (2015), winner of a Stonewall Book Award; Perla (2012); and the international bestseller The Invisible Mountain (2009), which received Italy's Rhegium Julii Prize and was a finalist for a California Book Award, an International Latino Book Award, and the VCU Cabell First Novel Award. Their books have been translated into eighteen languages and have received numerous other honors, including a fellowship from the National Endowment for the Arts and the 2022 John Dos Passos Prize for Literature. As a 2022 Baldwin-Emerson Fellow, they gathered oral histories of queer and trans BIPOC elders in collaboration with Baldwin for the Arts and the Center for Oral History at Columbia University.
De Robertis is also a literary translator of six Latin American and Spanish novels, including The Divine Boys by Laura Restrepo, winner of the Premio Córdoba por la Paz; Surrender by Ray Loriga, winner of the Alfaguara Prize and a Northern California Book Award in Translation; and Bonsai by Alejandro Zambra, which was named one of the Ten Best Translated Books of the Year by Three Percent. De Robertis's literary translations have also appeared in numerous journals and anthologies, including Granta, Zoetrope: All-Story, McSweeney's, a United Nations anthology of happiness poetry, and Resistencia: Poems of Protest and Revolution. They are also editor of the anthology Radical Hope: Letters of Love and Dissent in Dangerous Times (2017), which features essays of resistance from leading writers and thinkers. In 2017, the Yerba Buena Center for the Arts named De Robertis on its 100 List of "people, organizations, and movements that are shaping the future of culture." A writer of Uruguayan origins, they live in Oakland, California, with their two children.
Photo Credit: Lori Eanes
Website(s):