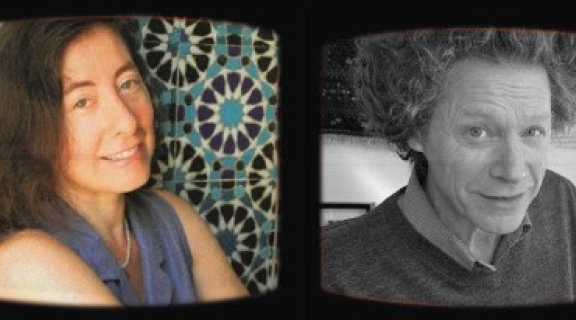 Writers' Voices for Peace and Justice: Peter Cole and Adina Hoffman
Friday, November 17, 2023
Event Time
02:00 p.m. - 03:00 p.m. PT
Cost
Free and open to the public
Contact Email
cwriting@sfsu.edu
Overview
You are invited to two online Zoom panels this week, entitled "Writers' Voices for Peace and Justice," featuring acclaimed writers whose works address the multiple tragedies that have been unfolding in the escalation of violence in the Middle East. Attendance is entirely voluntary. 
The goal is always to humanize the civilian populations caught in the multiple waves of violence, most recently between Hamas and Israel, to dispel stereotypes, and to use art to seek a more peaceful and just world.  
As creative writers, we feel it is important to facilitate conversations with writers who are using their artistry to speak up for peace and justice in this time of war.  We hope these conversations will help to dispel dehumanizing stereotypes that have led to increased incidents of antisemitism, Islamophobia, and anti-Arab bigotry. 
Learn more about the first panel here!
Writers' Voices for Peace and Justice: Peter Cole and Adina Hoffman
Register in advance for this webinar that features Peter Cole and Adina Hoffman.
A Reading and Conversation, followed by a Q&A
Co-hosted by:
Professor May-lee Chai, Graduate Coordinator
Professor Andrew Joron, Acting Chair
Free and open to the public
Peter Cole
Peter Cole's collections of poetry include Draw Me After (2022), Rift (1989), Things on Which I've Stumbled (2008), The Invention of Influence (2014), and Hymns & Qualms: New and Selected Poems and Translations (2017). With Adina Hoffman, he wrote the nonfiction volume Sacred Trash: The Lost and Found World of the Cairo Geniza (2011). Described by Harold Bloom as a "major poet-translator," Cole has translated important writers in Hebrew and Arabic, including Aharon Shabtai and Taha Muhammad Ali.
Cole has received numerous honors for his work, including fellowships from the NEA, the NEH, and the Guggenheim Foundation, the National Jewish Book Award for Poetry, and a TLS Translation Prize. He is the recipient of a 2010 Award in Literature from the American Academy of Arts and Letters, and in 2007 was named a MacArthur Fellow.  He is currently a co-editor of Princeton University Press's Lockert Library of Poetry in Translation, and divides his time between Jerusalem and New Haven.
Publications
Adina Hoffman
Essayist and biographer Adina Hoffman writes often of the Middle East, approaching it from unusual angles and shedding light on overlooked dimensions of the place, its people, and their cultures. She is the author of House of Windows: Portraits from a Jerusalem Neighborhood (Steerforth Press and Broadway Books), Till We Have Built Jerusalem: Architects of a New City (Farrar, Straus and Giroux) and My Happiness Bears No Relation to Happiness: A Poet's Life in the Palestinian Century (Yale University Press). A biography of Taha Muhammad Ali, My Happiness was named one of the best twenty books of 2009 by the Barnes & Noble Review and won the UK's 2010 Jewish Quarterly-Wingate Prize. She is also the author, with Peter Cole, of Sacred Trash: The Lost and Found World of the Cairo Geniza (Schocken / Nextbook), which was awarded the American Library Association's Brody Medal for the Jewish Book of the Year. Her Ben Hecht: Fighting Words, Moving Pictures (Yale University Press) was a finalist for the 2020 PEN/Jacqueline Bograd Weld Prize for Biography. The recipient of a Guggenheim Foundation Fellowship, she was named one of the inaugural winners of the Windham Campbell prize.
Publications

Creative Writing Department, San Francisco State University, with thanks to the Marcus Fund.